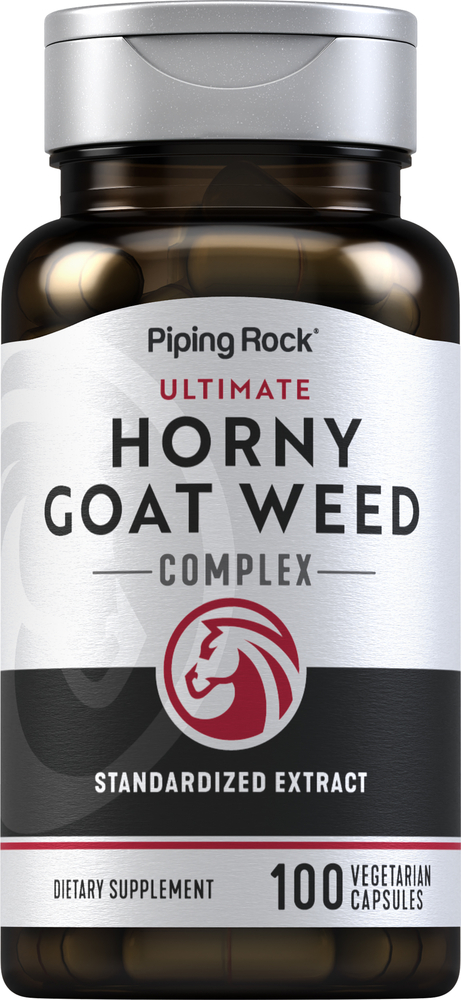 Ultimate Hornu Goat-kruidencomplex, 100 Vegetarische capsules
Onze prijs:
€ 9.88
(25% korting)
Glutenvrij
Geen genetische manipulatie
Vegetarisch
Feiten over supplementen
Grootte portie:
2 Vegetarische capsules
Porties per verpakking:
50
Hoeveelheid
per portie
% dagelijkse
hoeveelheid
(DV)
Epimediumextract (Epimedium sagittatum) (lucht) (gestandaardiseerd om 10% icariin te bevatten)
500 mg
*
Maca (Lepidium meyenii) (wortel) (van 150 mg 4:1-extract)
600 mg
*
Tribulusextract (fruit) (gestandaardiseerd om 45% saponinen te bevatten)
100 mg
*
Yohimbe-extract (Pausinystalia yohimbe) (bast) (Bevat standaard 2% yohimbine-alkaloïden)
40 mg
*
L-arginine HCl
40 mg
*
:
Vegetarische capsule, Rijstpoeder, Rijstextractmix, Rijstvezels
:
Volwassenen, 2 vegetarische capsules per dag, bij voorkeur bij een maaltijd. Voor snellere resultaten 3 vegetarische capsules 60 tot 90 minuten vóór eventuele activiteiten innemen.
:
Dit product bevat yohimbine, wat een hogere bloeddruk en hartslag kan veroorzaken, en niet mag worden gebruikt door personen met hart- en vaatziekten, maagzweren of overgevoeligheid voor een van de onderdelen. Als u zwanger bent, borstvoeding geeft, medicijnen inneemt of een medische aandoening hebt, moet u uw arts raadplegen voor gebruik. Bij ongewenste bijwerkingen het gebruik van dit product onmiddellijk stoppen en uw arts raadplegen. Niet bedoeld voor gebruik door personen onder de 18 jaar. Indien het zegel onder de dop beschadigd is of ontbreekt, moet u het product niet gebruiken. Buiten bereik van kinderen bewaren. Koel en droog bewaren.
* Dagelijkse hoeveelheid niet vastgesteld.
Andere maten
Gerelateerde producten