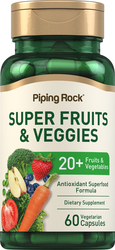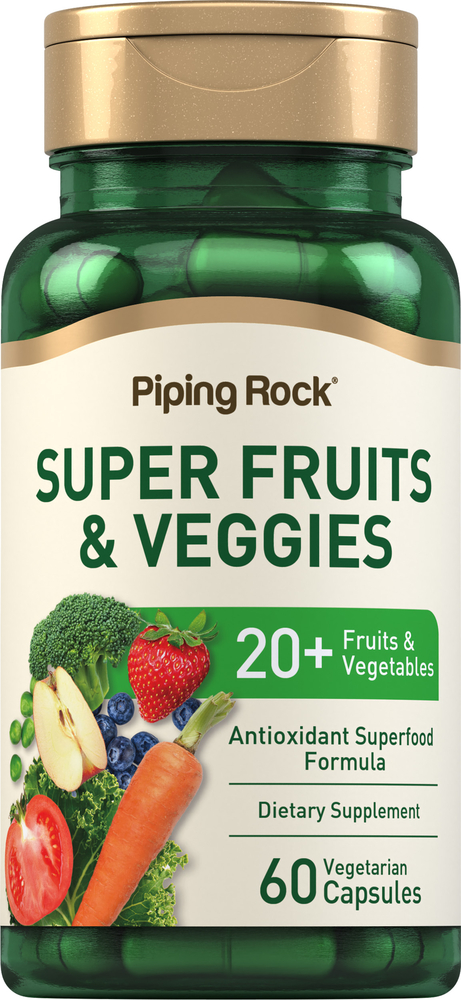 Superfruit- en -groentecapsules, 60 Vegetarische capsules
Onze prijs:
€ 6.17
(25% korting)
Tijdelijk niet leverbaar
Probeer het later nog eens
Glutenvrij
Geen genetische manipulatie
Vegetarisch
Feiten over supplementen
Grootte portie:
2 Vegetarische capsules
Porties per verpakking:
30
Hoeveelheid
per portie
% dagelijkse
hoeveelheid
(DV)
Super biologische rauwe kost-mix

Appel (Biologisch), Banaan (Biologisch), Bietenpoeder (Biologisch), Braambes (Biologisch), Blauwbes (Biologisch), Broccoli (Biologisch), Kool (Biologisch), Wortel (Biologisch), Kool (Biologisch), Peterselie (Biologisch), Erwt (Biologisch), Granaatappel (Biologisch), Pompoen (Biologisch), Framboos (Biologisch), Collard greens (Biologisch), Cranberry (Biologisch), Tomaat (Biologisch), Citroen (Biologisch), Mango (Biologisch), Brandnetel (Biologisch), Sinaasappel (Biologisch), Ananas (Biologisch), Prei

490 mg
*
Mix van groen

Spirulina, Tarwegras (Biologisch), Gerstgras (Biologisch), Luzerne (Biologisch), Spinazie (Biologisch), Chlorella, Artisjok (blad) (van 4:1-extract), Aloë vera (van 200:1 concentraat)

170 mg
*
Supernutriënten en prebiotische mix

FOS (fructooligosacchariden), Kaneel (bast), Cayennepeper, Haver bè­ta-glucans, Indische moerbei, Rutine

140 mg
*
:
Vegetarische capsule, Rijstpoeder, Plantaardig magnesiumstereaat, Silica
:
Volwassenen, 2 vegetarische capsules per dag, bij voorkeur bij een maaltijd.
:
Bevat graaningrediënten.
:
Als u zwanger bent, borstvoeding geeft, medicijnen inneemt of een medische aandoening hebt, moet u uw arts raadplegen voor gebruik. Bij ongewenste bijwerkingen het gebruik van dit product onmiddellijk stoppen en uw arts raadplegen. Niet bedoeld voor gebruik door personen onder de 18 jaar. Indien het zegel onder de dop beschadigd is of ontbreekt, moet u het product niet gebruiken. Buiten bereik van kinderen bewaren. Koel en droog bewaren.
:
De tarwe is bewerkt zodat dit product voldoet aan de Food and Drug Administration (FDA)-vereisten voor glutenvrij voedsel.
* Dagelijkse hoeveelheid niet vastgesteld.